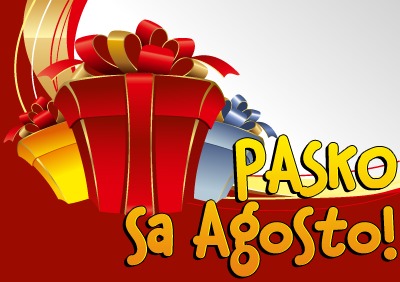 With the end of the year drawing near quite quickly, everyone's starting to get hyped for the Holiday Season. It usually starts during September, and the malls are quick to put up decorations and early Christmas sales to get shoppers in the mood of generosity.
Pasko
means Christmas in Filipino, and it has always been our tradition to scour every shopping mall and stores for the perfect gifts for our loved ones.
Pasko sa Agosto
is a collection of giveaways all ending at August 31st, just in time for the start of early Christmas, started by
SAHM Writes
.
To celebrate this blog's fruitful half of the year 2011, Sassy Chef is giving away something not conventional. I'm supposed to give away something related to food, but since some of the sponsored items haven't arrived yet, those will be for the next giveaway.
Before the reveal, let me explain why I chose this. In the news, I have heard a lot of incidences wherein a child is always caught between two parents fighting. Some of the headlines report that someone in a relationship (read: married) was killed or hurt by the other because of an unhappy marriage. While it doesn't always end up this violently, I know many people who are having trouble with their marriages, so this would be a great gift to yourself or to a friend who needs something to boost their relationship.
If you have a good relationship, this will stimulate you to grow deeper in love with each other. If you are struggling in your marriage relationship, this will provide hope by giving you biblical and practical help.
These are two volumes of Mahal Ko Ang Aking Asawa, a talk held by Pastor Clem Guillermo. They are in VCD form, but my mom said she watched her copy on the DVD players and it is working well. She bought this in Canada, so I have no idea if they are sold here, and I believe it is in English.
On to the mechanics:
Mandatory:
Like Sassy Chef on Facebook (see sidebar)
Follow Sassy Chef on GFC, or if you're not a Google user, follow me on Twitter. (see sidebar)
Optional:
Click on the Google Plus One button on the floating bar to the left (+3 entries)
Share this giveaway on Facebook, and tag Sassy Chef. (+1 entry)
Share this giveaway on Twitter. (+1 entry)
Blog about this giveaway (+5 entries)
IMPORTANT: Leave a comment on this post with the following format:
Name:
FB Profile Link:
GFC Username:


Google Username Used in Plus One
FB Post Link:
Twitter Post Link:
Blog post Link:
This giveaway will end on August 31, 2011 along with the rest of Pasko sa Agosto Giveaways. Winners will be drawn via Random.org and announced the next day. Open to all with a Philippine address to ship to. If you are outside the country, you can join as long as you can have the prizes shipped to any Philippine address. :)
Here are the other Pasko Sa Agosto Giveaways: